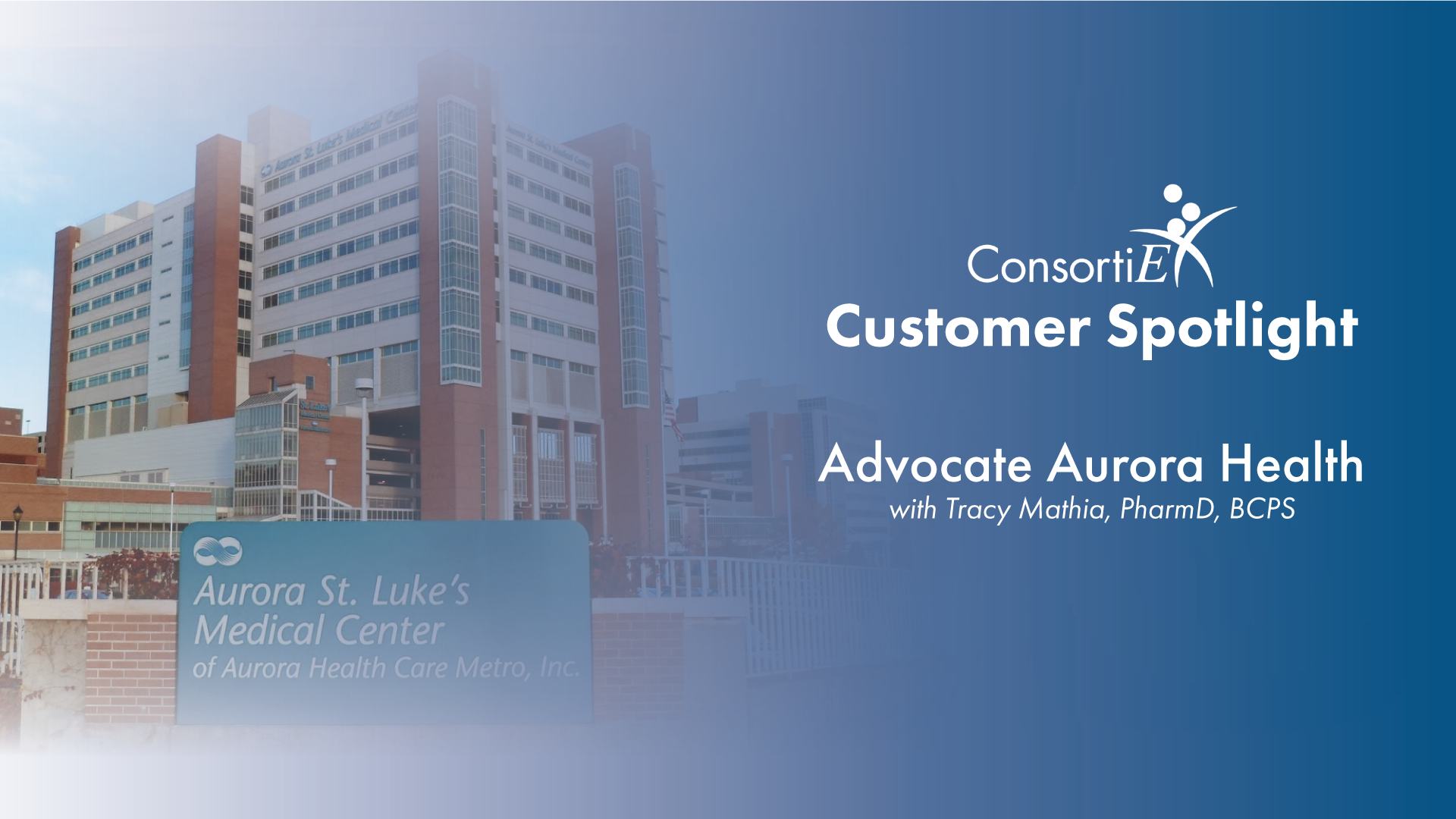 The ConsortiEX Customer Spotlight series has historically been used to highlight the impact that the Assure-Trak® Compounding Management System has had on improving compliance documentation and workflow efficiency initiatives at both 503B Outsourcing Facilities and Health System pharmacies, showing the real-world impact of IV Workflow Management.
This edition serves an additional purpose, as we explore a special relationship with Advocate Aurora Health. Our partnership goes back to 2014, the year ConsortiEX was founded; their participation as a beta site played a critical role in laying the groundwork for what is now the Assure-Trak® Compounding Management System. Advocate Aurora Health has continued to be a champion of ConsortiEX and our services.
We sat down with Tracy Mathia, PharmD, BCPS to discuss the compounding operations at Advocate Aurora Health, and to explore what set ConsortiEX apart as a vendor they wanted to work with.
Read the full transcript below.
Questions:

1. Please explain the motivating factors leading to the partnership with ConsortiEX, helping to design the Assure-Trak® Batch Compounding module?

There were two motivating factors in helping ConsortiEX design the Assure-Trak® Batch Compounding module, and that was to create a program that was both easy to use and that would improve safety. The vision was to have one space for all batch compounding documentation. Assure-Trak® is straightforward and intuitive. Its quick and easy to perform a search; from looking up the number of times your site has compounded a compounded sterile preparation (CSP), to looking for a specific lot number for one of the base ingredients, which are needed when there is a recall. The ability to enter a batch prior to the day of compounding improves safety and there are a number of label design options as well.

2. What has your experience been with the ConsortiEX Product Development Team? What are the most beneficial enhancements that have been adopted based on your feedback?

Working with the ConsortiEX Product Development Team has been remarkable. They were receptive to learning about the sterile compounding realm, being attentive to the challenges we face and thoughtful in how they helped us to minimize those challenges. Different features and product enhancements were implemented based on our feedback; from minor improvements like increasing the font size for certain fields or changing terminology, to major changes improving the flow of how batches move through the system, and the fields that are shown at each phase.
"With a small, dedicated, batch compounding team, Assure-Trak® allows us to maximize our time in the compounding room."
3. How has your facility used the Assure-Trak® Compounding Management System to improve operations and batch processing?

The ability to queue up a batch in advance of the date of compounding had a major impact on improving our operations. No longer were we tied to the computer at the start of the shift to push through batches. Instead, in the days and even weeks prior to compounding, medications and materials are gathered, batches prepared, labels printed, and it all put together in a tote. Less chance to make an error when these tasks are done in advance and not rushed due to a need.

4. What about Assure-Trak® makes it an ideal solution for batch compounding processes?

With a small, dedicated, batch compounding team, Assure-Trak® allows us to maximize our time in the compounding room. Our technicians appreciate that the batches can be completely staged prior to the compounding day allowing them to head straight into the clean room at the start of the shift.

5. Based on your experience, what are some best-practices you've been able to implement using Assure-Trak® Compounding Management System?

The customizable label options represent some of the best practices available with Assure-Trak®. ConsortiEX listened to our feedback and the challenges we've faced with labels and tailored Assure-Trak® to allow each site to customize the labels themselves. Key customizable features include the ability to use different colors for different areas on the label and utilizing the free text lines. We no longer use multiple auxiliary labels for each product. Instead, we chose a standard set of colors for typical auxiliary messages and use the free text fields. Not having to adhere to separate labels saves time and improves safety, because it is built into the label itself – you do not need to remember an extra step.
"Working with the ConsortiEX Product Development
Team has been remarkable."
The custom label options also make it easier to differentiate between similar items with the use of colors or addition of terms. In addition, early on in testing phases, we did many tests on various labels at different storage conditions and found that the adhesion and lack of smudging was superior to other labels we had used.

6. How would other health systems benefit from Assure-Trak®?

The ability to prepare batches in advance and the sophistication of the custom label options are two of the most important benefits for health systems.
7. What experience, if any, do you have with the ConsortiEX Support team?

The ConsortiEX Support Team has been available any time we have needed them. With a very quick turnaround to problem solve any day-to-day questions to more involved meetings for things like printer or software installs, the team has been there for us. I have never had an issue with ConsortiEX not resolving an issue.
* * *
Thank you for reading this edition of ConsortiEX Customer Spotlight's, don't forget to check out past spotlights to learn more about the impact of Assure-Trak®.
If you have specific questions around how Assure-Trak® can improve your compounding operation, please contact us today!