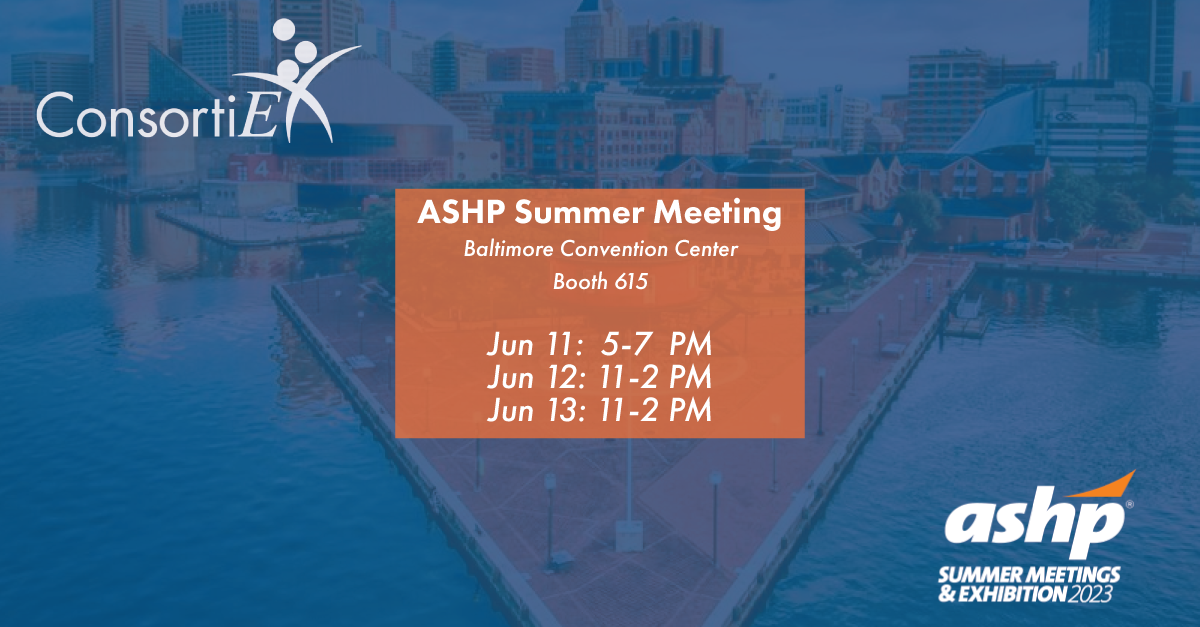 ConsortiEX is exhibiting at this year's ASHP Summer Meeting in Baltimore, MD, from June 10-14! You can find us at Booth 615.

At our booth you expect to can learn more about ScanCast™, our newest product, and get up-close demonstrations of our two flagship solutions: Assure-Trak™ Compounding Management System and Verify on Receipt™.
Assure-Trak®: is the only IV Workflow Management System currently meeting the compliance documentation needs of both health system pharmacies and 503b outsourcing facilities. Assure-Trak®️ is a highly scalable, cloud-based solution, that utilizes off-the-shelf hardware for both anticipatory batch and patient specific compounding. Assure-Trak®️ streamlines workflows, increases operational efficiency, and promotes patient safety.
Verify on Receipt™: addresses the critical need for product verification in the pharmacy supply chain. Beyond being best practice, product verification will soon be a DSCSA Requirement. Verify on Receipt™ enables real-time verification of products, ensuring authenticity, integrity – and compliance.
ScanCast™: a barcode scanning module that, when used with Verify on Receipt™, reduces the number of scans in your receiving process. ScanCast™ is compatible with an increasing number of industry leading medical, inventory, receiving and EHR systems.
Beyond the ASHP Summer Tradeshow, ConsortiEX has an exciting roadmap for the rest of 2023. Visitors to their booth will have the chance to learn what initiatives and advancements ConsortiEX has in store as the industry moves beyond the 2023 compliance deadlines. ConsortiEX remains committed to supporting the compliance and workflow needs of health care providers, empowering pharmacists to focus on their patients above all else.
If you have immediate questions or concerns around DQSA Compliance, or compliance requirements, contact us today!
ASHP Summer Tradeshow Details:
Where: Baltimore Convention Center | Baltimore, MD
When: Jun 10-14, 2023

Exhibit Information:
Booth: 615
Sunday: 5-7PM
Monday: 11-2 PM
Tuesday: 11-2PM