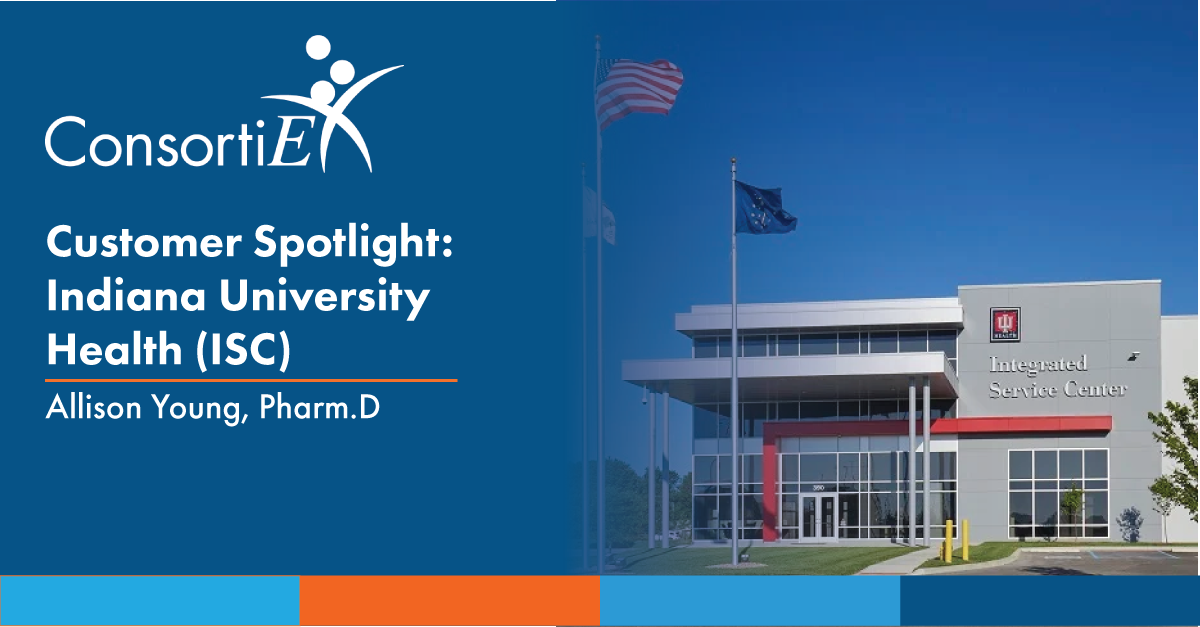 ConsortiEX has recently highlighted the benefits that a compounding management system can offer to an Integrated Services Center (ISC) within a health system.
To further illustrate the real-world impact, we spoke with Allison Young, PharmD. to discuss the compounding operations at Indiana University Health's (IUH) Integrated Service Center, the impact that Assure-Trak® has had, and gauge their confidence in meeting compliance requirements moving forward.
Read the full transcript below:

Questions:
What led to the decision to build the ISC at IUH?

Many, many discussions! A key driver for the ISC was the cost savings that comes with efficiency of scale and the streamlining of processes. The first part of the ISC to open was our Supply Chain Operation, then our Shared Services Pharmacy opened about six years later. The pharmacy side of the facility was delayed by competing construction projects and pandemic related issues.
What benefits do you expect from launching the ISC across IUH?

Cost savings for sure, but also a desire to provide IUH with insulation against drug and staffing shortages. Across our departments, we are able to provide services that save money through contract purchases, re-packaging efforts and relieving labor shortages at sites.
What motivating factors lead to the partnership with ConsortiEX, and the implementation of the Assure-Trak®: Batch Compounding module?

Having used Assure-Trak® at our other sites we were already familiar with not only how the product supports quality assurance but also the end-to-end customer service provided by ConsortiEX. This product is as plug-and-play as you can get in high-end pharmacy automation. It is intuitive and easy to use. It makes compliance easy.
How has your facility used the Assure-Trak®: Compounding Management System to improve operations and batch processing?

We process all of our anticipatory batches through Assure-Trak®. It makes tracking orders, batches, and shipments so easy. The reporting features are robust and provide all the data you need at your fingertips. The high-quality labels are valued by our sites as an easy way to facilitate integration with our other barcode scanning systems. This helps us ensure that bed-side scanning is consistently supported across our system.
What about Assure-Trak® makes it an ideal solution for multi-site batch compounding processes? 

Generally, it's the ease of use and that it baked compliance into its functionality. There is not a long learning curve associated with the use of the system which makes it easier to ensure team members are using the system correctly.
How does your site intend to utilize the benefits of the Assure-Trak®: EXchange Orders module for two-way order management and fulfillment?

At the moment we are only using the orders module internally within our department because we have a separate inventory management system that allows our sites to place orders. While we work out those processes, we are using the orders module to track orders by site and to collect data on our shipments.
Based on your experience, what are some best-practices you've been able to implement using Assure-Trak® Compounding Management System?

Because of how the system operates it leads you down the path of having organized processes. It's not necessary to create elaborate processes around the system. Use it as designed and you will have a controlled process.
With the Assure-Trak® Compounding Management System, do you feel secure in meeting the upcoming USP<797> compliance changes? If possible, provide an example.

We will have batch documentation easily accessible at moment's notice and we will easily be able to demonstrate how robust our QA processes are around batch compounding. Want a batch record printed out? It just takes a moment. Want to know what lot numbers were shipped to each site? Here let me generate a report.
How could other health systems benefit from Assure-Trak®?

If your site is performing anticipatory batching, you would benefit from this system.




Describe your experience with the Assure-Trak® implementation team (project management, clinical services, and technical groups) in designing, building, testing and the training that lead up to Go-Live?

I have worked with many companies across the spectrum of pharmacy services. ConsortiEX is head and shoulders above any other company when it comes to not only response time to issues or questions but also the quality of the response. Their team is knowledgeable, and service driven. 10/10
What has your experience been with the ConsortiEX Product Development Team? What are the most beneficial enhancements that have been adopted based on your feedback?

One that comes to mind is having the ability to turn off the pharmacist's approval of the label. Since the label was generated by the system, having the pharmacist approve the label prior to printing didn't add much value to our process. Consortiex made this a setting that could be toggled off.
What experiences, if any, do you have with the ConsortiEX Support team?

Truly I have not had to contact support very often. The system is stable, and we rarely encounter issues, but I can't say enough about their response time. Maybe they are so fast to respond because they don't get that many emails about issues!
Thank you for reading this edition of ConsortiEX Customer Spotlight's, don't forget to check out past spotlights to learn more about the impact of Assure-Trak®.
If you have specific questions around how Assure-Trak® can improve your compounding operation, please contact us today!